Premium Van Rental Services in Dubai | Indulge in Luxury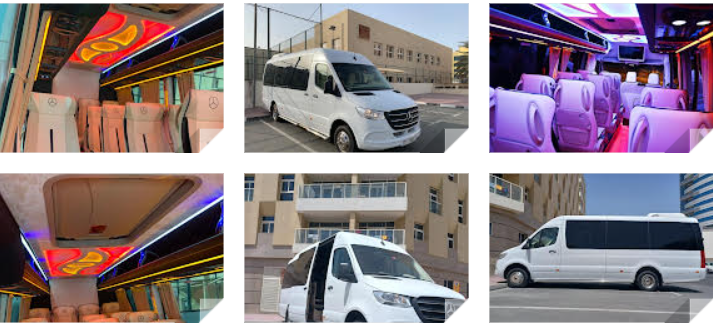 Do you plan to take your family or friends to Dubai? Or do you want to explore Dubai's beauty? Indulge in Luxury | Premium Van Rental Services in Dubai​ and private van transportation from Dubai to Abu Dhabi, among other needs. Our reliable and comfortable 7-seater minivans, 12-seater luxury vans, and 14-seater vans can transport you. Consult with the top van rental company in Dubai. Whether you require a 7-seater van or a 12-seater luxury van, simply let us know what you need, and the rest will be up to us to make your trip to Dubai memorable.
For less money, rent a luxurious van that is both comfy and driven in Dubai. We are pleased to provide Dubai's top-notch rental vans. Our fleet of luxury vans in Dubai is the largest, and it includes the most recent Mercedes Sprinter and Mercedes Viano models. No one can match our prices because we provide higher quality services at lower rental rates. Our team of skilled and qualified drivers is here to help you. Our reliable and comfortable 7-seater minivans, 12-seater luxury vans, and 14-seater vans can transport you. You can take enjoyable tours, picnics, airport transfers, and wedding parties that need you to drive between cities in highly visible automobiles. Our luxurious fleet is a fantastic option for you. You may enjoy all the beautiful views of the city from our vehicles' double doors, plush seats, and high ceilings without having to worry about paying for parking, gasoline, tolls, maintenance, or VAT while using our van rental service in Dubai.
When you go on excursions and tours with friends, you may enjoy them to the fullest. For this reason, we provide van rental services in Dubai, United Arab Emirates. It is nearly impossible to find a reliable van hire in Dubai or any other GULF state. Vans that are offered are usually rather pricey and fall short of your expectations. Don't worry though, we have one of the best selections of regular and lux hire vehicles. We provide the best luxury vans with top-notch quality and knowledgeable drivers for daily, weekly, or monthly rental purposes, enhancing the comfort of your travels. We are the top van company with the best prices.
Feel free to contact us we are at our service 24/7.
We strictly adhere to the daily car cleaning requirements set forth by Dubai's traffic and transportation regulations. To deliver rides that are comfortable, hygienic, and restful.
To give our clients peace of mind, all of our drivers have completed authorized training and certification programs. Enjoy your trip and unwind knowing that you are in good hands with us.
Numerous Types of Vehicles
To offer you expert services, we have a large selection of Economy Sedans, Business Class SUVs, Luxury Sedans, Luxury Vans, and Minibuses in our fleet.
The vehicles offered are of the highest caliber in terms of luxury, safety, and quality. Clean, well-maintained vehicles driven by seasoned, skilled chauffeurs.
No one can undercut our prices because we have lower ones. The unique and upscale vehicles on offer are reasonably priced, so you'll get your money's worth.